"Shall we have pancakes for breakfast?" "Yes, let's!" And what could be better at halftime of the Wales-South Africa World Cup match than tasty American pancakes?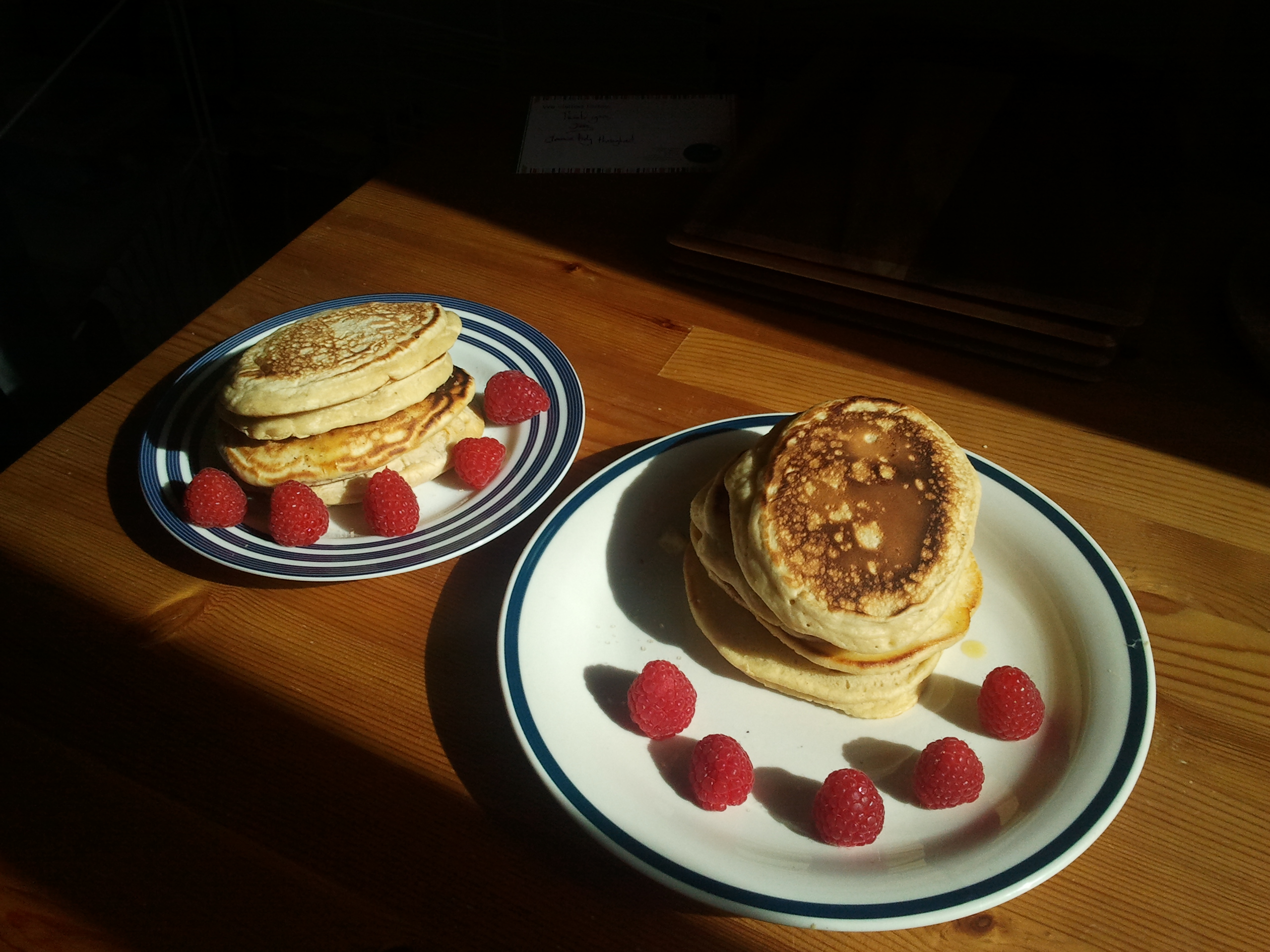 There was an article recently (I believe in the Guardian magazine, but it might have been the Waitrose Food mag) about whether one should have recipe books or just use online recipes. This morning was an online moment – we wanted pancakes, we wanted American pancakes (or it would've been Be-Ro book as usual) and with a few key-stabs, the trusty BBC had a recipe for 'Fluffy American Pancakes'.
I doubled their recipe to make us 4 pancakes each – just right!
Ingredients:
270g/9½oz plain flour
2 tsp baking powder
1 tsp salt
4 tbsp caster sugar
260ml/9fl oz milk
2 eggs, lightly beaten
4 tbsp olive oil or melted butter (allowed to cool slightly)
Place flour, baking powder, salt and sugar in a bowl.
Whisk the milk and egg in a separate jug, then whisk in the olive oil.
Pour the milk mixture into the flour and beat with a fork into a smooth batter.
Set aside while the frying pan heats up.
Heat a frying pan over a medium heat and add some butter.
When the butter had melted, pour in 2 ladles of batter.
When the tops of the pancakes begin to bubble, flip it and cook until golden brown and risen to around 1cm thick.
Stack with butter sprinkled with brown sugar between each pancake.
Serve with raspberries.
These could have done with maple syrup, but they were very tasty all the same. The raspberries were delicious. Made up for Wales just missing out, 16-17.