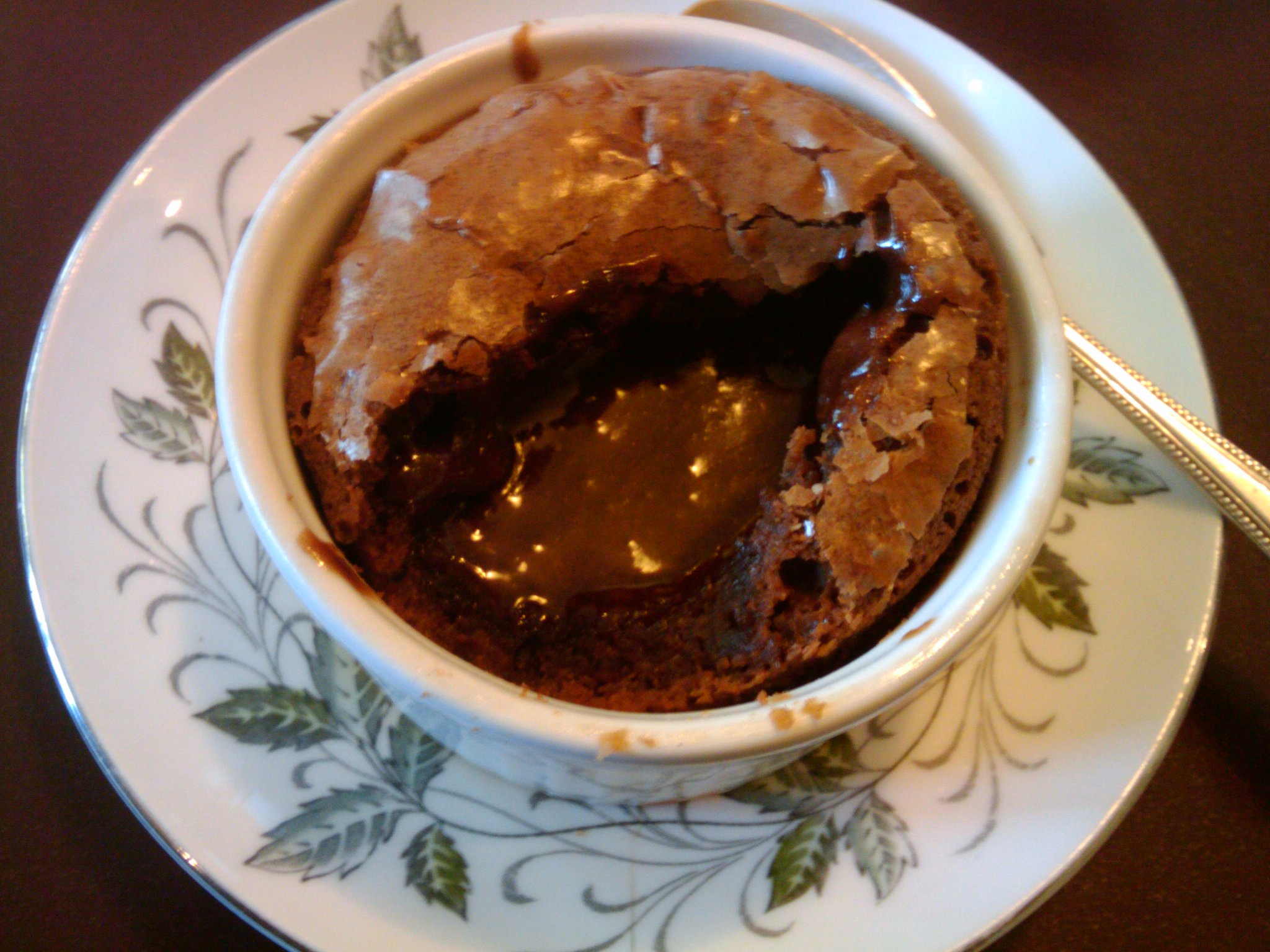 Photo taken the second time I made these, for a birthday lunch. Photo taken by E.
I was reminded of this recipe by Tastespace's post, although I think I also have it saved from Pioneer Woman, and instantly promised the Penguin a tasty surprise the following day.
I call it fail-safe, because I was convinced it was not going to go well. Firstly, the recipe is American and thus in cups. My cup measures are in one of the two huge "Baking Boxes" in Oxford. So I had to convert the measures. And the quantities for 2 cakes are relatively small, which makes weighing on the scales here difficult. I was convinced at the supermarket that I needed cream but couldn't justify buying a large container (which is just as well, since I returned to realise that the cream was for an entirely separate icecream recipe that I was interested in, and not for the cake at all. Then the eggs were Best Before 2 weeks ago (this is nothing to do with me). And then I was convinced that the mixture would fill four ramekins and was far too much for two…
But I roughly weighed my ingredients, tossed them together, filled up my original two ramekins, and stuck them in the oven with all my fingers crossed.
And they came out beautifully. Penguin Taste-tester of Chocolate goods Extraordinaire said so. Firm on the outside and gooey in the middle.
And so easy! Even in the midst of potential disaster. Definitely fail-safe.
Molten chocolate lava cakes (makes 2 ramekin-sized cakes)
2 oz chocolate (I used plain cooking chocolate)
55g butter (1/4 cup)
60g icing sugar (1/2 cup)
1 egg
1 egg yolk
3 tbsp flour
The oven was on from the fish-cooking… I think at 200-220C. Original recipe reckons 425F.
Grease 2 ramekins and stand on something (I used the base of a springform tin)
Microwave butter and chocolate for 1 minute on high (the butter will be melted, stir until the chocolate is fully melted).
Stir in the icing sugar.
Whisk in the egg and egg yolk.
Stir in the flour.
Pour the batter into the ramekins.
Bake for around 13 minutes until the sides are firm and the centre is soft.
Here you should let the cakes stand for 1 minute, then invert them onto dishes.
I left them while we ate our first course, and then served one in the ramekin, since it had made such a nice dome. It was less gooey in the centre than if served at once, but still good. Definitely a nice way to round off a 30 minute supper.