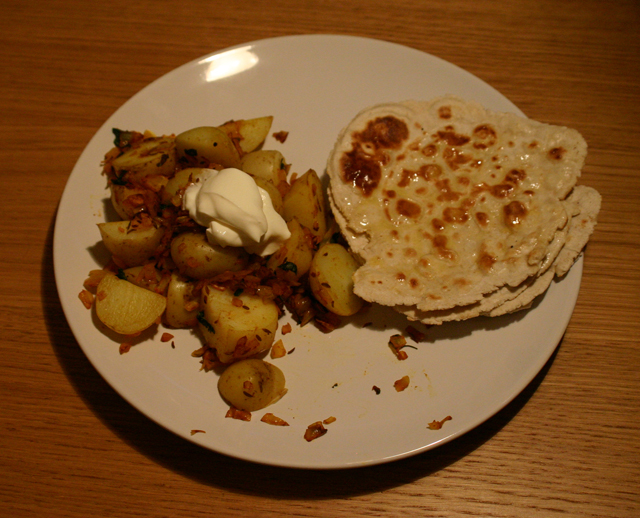 This supper started off as an intended Potato and Feta warm salad, but I then realised that the recipe that had prompted the thought of the salad sounded good and the Penguin agreed. The recipe was for a Potato methi (fenugreek) curry on 6bittersweets. We went to Tesco on the basis that if we could find fenugreek we would make the curry, and if not, we'd stick with the salad. No fenugreek, but we found some fresh coriander, and then I suggested we make chapatis to go with the curry.
Then the Penguin informed me that the curry was very hot and nobly dashed across to the pay-as-you-go-pantry (Tesco-over-the-road) for creme fraiche, which I stirred liberally through my now-nothing-like-the-original-recipe curry.
The chapatis also involved an adaptation, as none of the shops around here seem to stock wholemeal flour, let alone chapati flour, so I used plain flour in a Good Food Channel recipe. I also halved the quantities.
Potato coriander and creme fraiche curry (serves 2)
1/2 a bag of baby new potatoes (left over)
1 medium onion
A little under half a handful of fresh coriander (most of a ramekin-full)
1 tsp cumin seed
1 tsp red chili powder
1/2 tsp turmeric
Creme fraiche to taste
Chop the potatoes and boil until soft.
Dice the onion, chop the coriander and measure out the spices.
Heat 1 tsp of oil in a pan over medium-high heat until hot. Add the spices.
Then add the onion and coriander and mix well. Cook until soft.
Stir in the potatoes.
Serve, stirring creme fraiche through to taste.
Chapatis (makes 4 chapatis)
100 g plain flour
40 ml warm water
2 tbsp butter
Make a well in the flour in a bowl, pour in the water and mix into a dough. I added a little extra water.
Knead the dough on a floured surface for 5 minutes until smooth and elastic (or bored).
Put the dough back into the bowl, cover with clingfilm and leave for 10 minutes (while chopping the onions).
Divide the dough into 4 balls and roll each out very thinly on a floured surface.
Heat a dry frying pan until hot over a medium heat.
Cook each chapati for 30 seconds on one side, then on the second side for 1 minute until it starts to puff up, then around 30 seconds on the first side again, pressing it with a spatula.
Smear the chapati with butter.
The Penguin did most of the curry-preparation and took the photo.