This is a recipe from Mama's Italian Cookbook, which I modified very slightly. Tomato-flavoured pastry is definitely the way forward.
Filling:
2tbsp butter
1tbsp caster sugar (Demerara works too, but watch out that you don't overcook it and get lumps of toffee like I did the first time)
500g/ 1lb 2oz / 1 punnet cherry tomatoes, halved
1 large clove garlic
salt and pepper
oregano
Pastry:
250g / 9oz plain flour
pinch of salt
1 tbsp tomato puree
140g / 5oz butter
5-6 tbsp cold water (not always needed, especially with pesto and margarine used)
1 tbsp pesto (Equally good without)
Preheat the oven to 200C / 400F/ Gas mark 6.
Make the pastry:
Place the flour, salt, tomato puree and butter in a bowl and rub into fine crumbs (or use a food processor).
If needed, add enough water to form a soft but not sticky dough.
In a heavy-based saucepan, melt the butter.
Add the sugar; stir over quite a high heat until just turning golden brown, then remove from the heat.
Quickly add the tomatoes and garlic, and season with oregano, salt and pepper. The original recipe adds 2 tsp white wine vinegar at this point.
Pour the tomatoes into a cake tin (depending how juicy your tomatoes are, a springform tin makes the tart much easier to over baking, but may leak).
Roll out the pastry and place over the tomatoes, tucking in the edges. Prick with a fork.
Bake for 30 minutes until firm and golden.
Leave for 2-3 minutes then turn out onto a plate.
Garnish with fresh basil.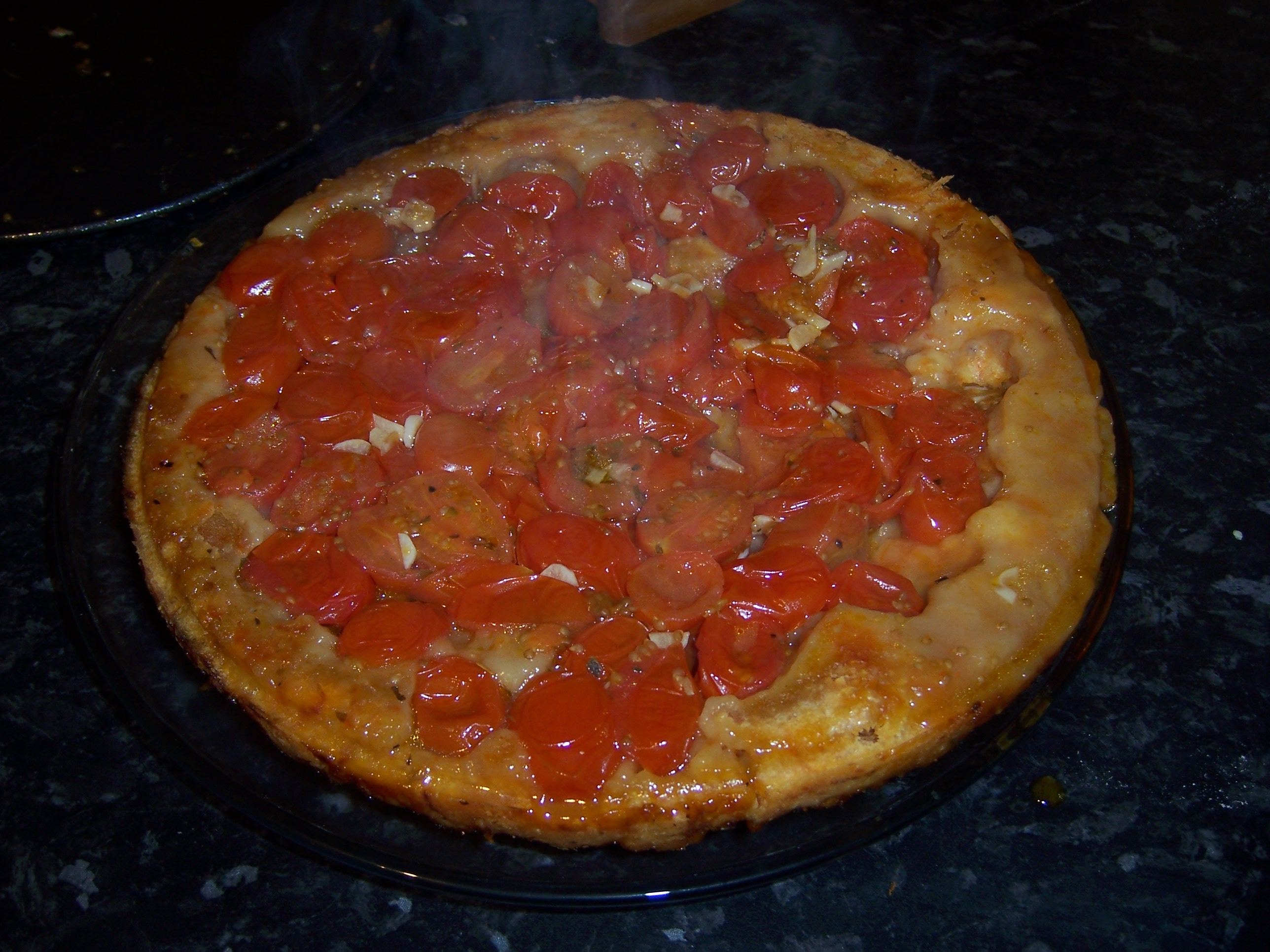 Parmesan crisps
Just before we started making the tart for dinner, we were watching Nigel Slater's Simple Suppers. And we half-caught the parmesan crisps, which seemed a perfect accompaniment to tart. Somewhat fiddly, but quite fun.
Place spoonfuls of finely grated parmesan in a non-stick pan over a low heat and flatten with the back of a spoon (to look like a biscuit).
Cook gently so it melts and forms a little crust. Once the base is crisp, flip it over with a palette knife. Cook for another 1-2 minutes on the other side.
Spinach goes really nicely with this meal.